In this time of giving I've been thinking about the ways prisoners show their loved ones how much their care about them. Cards are common and prisoners often spend time creating art and whatever small gifts they can muster for family. When I taught at Framingham, Dolly used to knit for her grandkids; I knew women who sold art to make money to afford to send a present beyond the bars. I have cards; I sent cards. I relish every effort someone makes who lives behind bars.
What people don't often realize is that there are some innovative programs around the country that specialize in the very real need that prisoners have to make a difference, i.e. giving to others helps make their lives meaningful. A program I came across in Washington state offers prisoners the opportunity to repair bicycles for kids. As reported by the Associated Press on Oregon Live , they use formerly loved (used) and abandoned bikes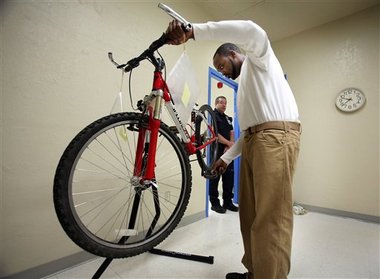 photo by AP/in The Seattle Times/Mike SiegeI
One of the most appealing parts of the program is that men who were convicted of heinous crimes against children want desperately to make up for their crimes through this program. While some need training to fix bikes, others come in with experience. As one man involved said, "I'm here trying to help other people. I believe in karma."
Another well-known program where prisoners get to give back is the Prisoner Pup program at over thirteen prisons in Massachusetts. Prisoners train dogs to help people who are blind or deaf or have disabilities. They make a 12-18 month commitment ,according to the National Education for Assistance Dog Services website: The purpose is to give prisoners a real and important responsibility and to allow them to help others. According to NEADS, "Puppies spend most of their time with the primary handler going to classes, recreation areas, and dining halls." Each puppy sleeps in his or her primary handler's cell. Prisoners learn how to teach their puppy tasks, groom them and give them exceptional obedience skills. "Whether going to a medical appointment, the TV lounge, or the family and friends visiting room, the puppy is usually right by the handler's side."