If you haven't heard of Amie Dowling, once you see her short film, Well Contested Sites, you won't forget her. Why? She creates dance pieces with formerly imprisoned men and women that touch on all their pain, hopes and dreams, and in addition, raises awareness about issues of incarceration. I have posted the link for her piece here.
Amie's dance background is thoroughly embedded with social justice. She's worked in Thailand with NGO's, assisting women leaving the sex trade industry and developed and toured theatre/dance pieces that addressed what she felt were the underlying issues of prostitution: "class, race, gender inequity, and geographic isolation."
It was her nephew's involvement with gang activity and his subsequent incarceration that drew Amie to found the Performance Project, and from 2001-2008 she created amazing theatre/dance pieces on the East coast with prisoners, presented behind bars to an audience including prisoners and their families.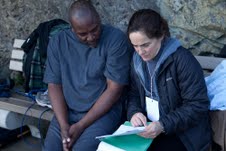 Now she's in California. Here's Amie working with Reggie from her current piece which follows a group of male prisoners as they make their way through the transition from incarceration to life on the outside. This 13 minute film was actually created at Alcatraz and several of the cast members were formerly behind bars. Amie says about the piece's title that it "stems from the idea that a prisoner's body is a contested site, its presence or absence, its power and its vulnerability are all intensely realized in jails and prisons – institutions that emphasize control, segregation, solitude and physical containment."
I first heard of Amie's work through Jonathan Shailor's book about theatre and dance practitioners in prison, Performing New Lives and in the video Jonathan made to give people a flavor of the book, there is the most stunning picture of male dancers. I might have thought Balanchine. I might have thought a New York stage. The bodies are arched and angled and look trained and dynamic. The feeling is of reaching for freedom and it's apparent in every sinewy muscle. Amie's website is www.amiedowling.com. And her facebook page about the project is here.
In Shakespeare Behind Bars, I wrote that art has the power to show us and those who dwell inside that prisoners are not "damaged goods." Through their transcendence into a world without words, where images speak above all else, they bypass –for if only a shining moment–those they've hurt, the bars that keep them confined and through art, they recognize that they can soar again.