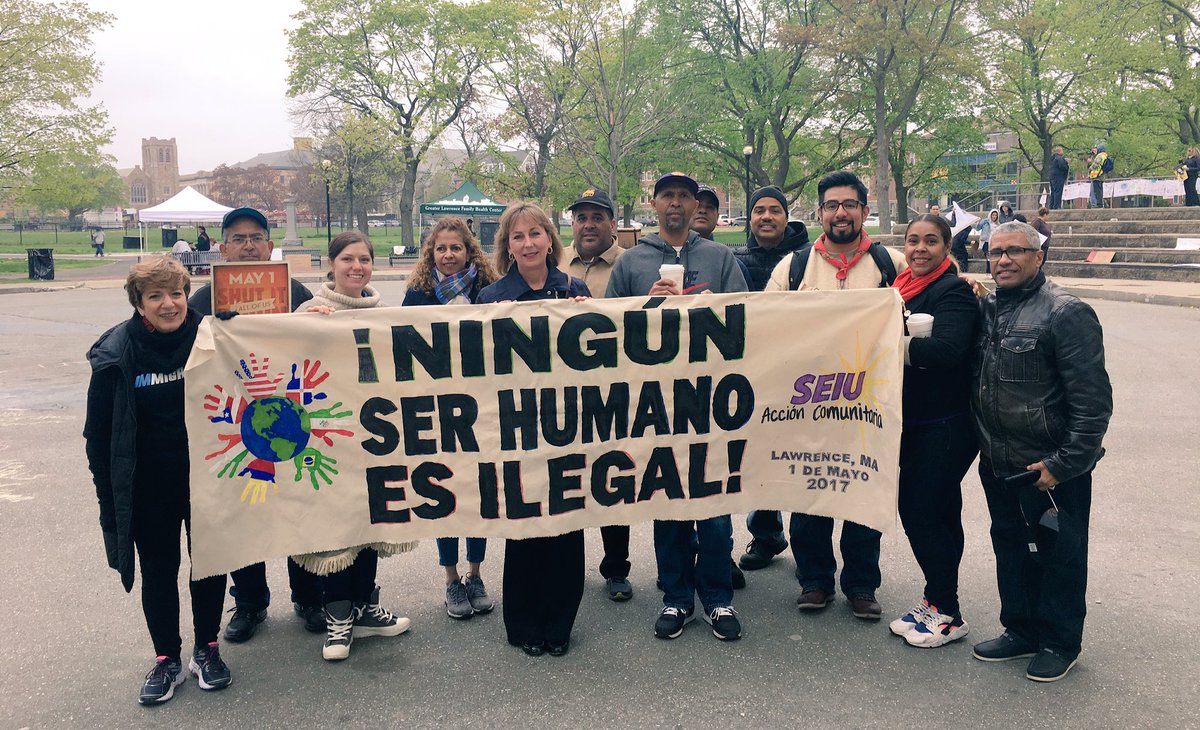 "No Human Being is Illegal!"
Photo from SEIU Local 509 & Thanks to Pablo Ruiz, from May Day  in Lawrence, MA
Everyone is invited to
IMMIGRATION IN THE AGE OF TRUMP:
Expert Panel, Short Documentary & Short Story Discussion
Wednesday May 24, 2017,
Tewksbury Library, 300 Chandler St, Tewksbury MA 01876
7:00 PM until 8:45 PM
Explore the realities confronted by immigrants and refugees in today's society with a panel discussion, short documentary, and short story discussion.
Panelists include:
Barbara Dougan, an attorney and Civil Rights Director for the Massachusetts branch of the Council on American Islamic Relations
Rafal Farouq, an Iraqi refugee, now in college and living in Lowell
Tooch Van, a Cambodian immigrant and genocide survivor living in Lowell, an educational professional consultant and advisor
The panel will be moderated by Jean Trounstine, an author of six books and professor emerita at Middlesex Community College.
A short documentary — Hard Truth, Levity and Hope — will be screened. The film explores the lives of refugee teens who have settled in Lowell.
A short story — "The Other Man" by Pulitzer Prize winner Viet Than Nguyen from his new book The Refugees — will be discussed. Copies of the story are available at the library's Front Desk beginning May 3. Attendees are encouraged to read the story prior to the event, but it is not a requirement.
Location: Meeting Room
Click here to go to the Tewksbury Public Library calendar.