I vividly remember going to school the day of the stabbing and being floored by the rumors. I remember going home that night to be completely consumed by the news, calling friends and hearing the rumors. At the age of sixteen, having another 16 year old killed by one of my "friends" was about the most traumatic experiences I'd ever had. The next day at school, the somber atmosphere within our small group of friends was extremely dark.
I'm friends with a lot of people who were at Dartmouth High the day of the event. A lot of them are on my friends list on Facebook, and each April all those friends remind me of the tragedy when they all switch their profile photos to that of Jason. Each April I have been reminded of how much I hated Gator and Karter.
Then, I saw someone posting about your book on my feed. It was extremely negative feedback, asking for a boycott. Then, about a third of my friends list jumped on the bandwagon. However, your book piqued my curiosity for many reasons. I hadn't Googled Karter in years, so I didn't know he was released nor did I know he was up for parole. I didn't know anything about him. I assumed he was gone forever, an old memory.
I bought your book 3 days ago, and finished it about 15 minutes ago. Your book brought back memories that I didn't even know I had. Your book gave a voice to a person who has been a monster in my mind for 20 years. Your book was absolutely amazingly well written, and what you have done for Karter is absolutely incredible. I haven't read a book that caused me to feel sick, and caused me to cry both out of sadness and happiness, ever. While I don't agree with the timing of your book release, I wouldn't have discovered it without that decision.
I have no way of contacting Karter, and he probably wouldn't remember me if even I had stood face to face with him. But, if you could let him know that I wrote to you let him know that there are some souls from New Bedford that believe everyone can change, and that I'm extraordinarily proud of him and his progress to become an example for the thousands of others who made a earth-shattering mistake as a child.
Anonymous"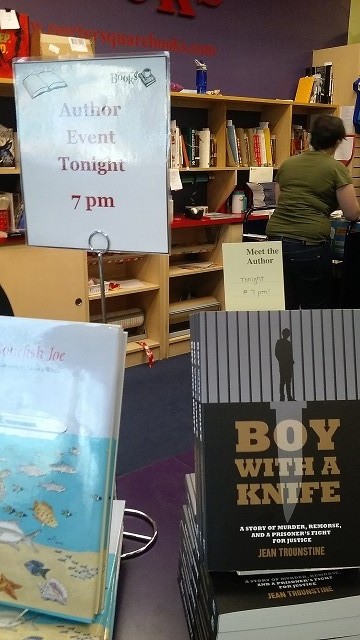 photo by Emily Breitbart from reading at Porter Square Books